domingo, 4 de octubre de 2009
Today I decided to upload this book, which is in fact one of my favorites of Paulo Coelho.
I think it's a beautiful story that teaches you a lot. I guess most of you know it,
Coelho used intuitively and with dexterity, the most primitive structures of the fairy tale.
So here you have it .
"At a certain point in our lives, we lose control of what's happening to us, and our lives become controlled by fate. That's the world's greatest lie"
The story follows a Spanish shepherd boy named Santiago whose dream was always to travel and see different people and cultures. Since he was a boy, he was used to being a shepherd and taking care of his sheep; but still, his desire never went away . Sa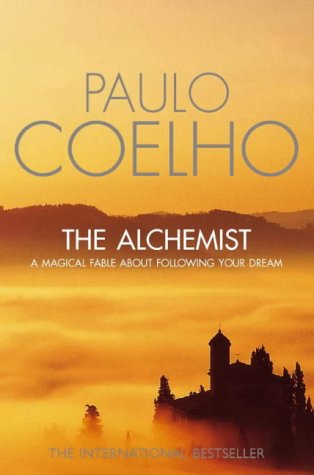 ntiago goes to an old gypsy woman to interpret the dream he had had for two nights in a row. The gypsy tells him that his dream is telling him to look for a treasure buried at the Great Pyramids in Egypt. Santiago doesn't really believe her but she tells him if he does find the treasure he must give one tenth of it to her.
He agrees and goes on his way. He sits down on a bench to wait until the sun goes down and takes out his book when an old man named Melchizedeck, who calls himself the old king of Salem, sits down right next to him. He teaches him the basics of searching for his dream and about the Personal Legend. Santiago decides to travel towards the pyramids in search of his dream. As he sets off towards the pyramids, Santiago learns that he will have to sacrifice a lot of things to get there. So he sells his sheep and begins his journey. At first he did not know where he was traveling until he arrived in Tangier, Africa. There he is robbed of his money by a thief. However, he meets a crystal merchant in the streets of the marketplace. They become good friends and the merchant allows the boy to work for him.
Within a year, the boy inspires the crystal merchant to change things in his shop.As a result, more customers come by to purchase more crystal and business improves so much that Santiago receives enough money to cover his loss. Eventually, Santiago leaves and starts his journey home. En route, he meets a group of people, including an Englishman who searches for knowledge about alchemy and a two-hundred-year-old alchemist, as they begin to march through the desert in a caravan towards the Pyramids. The Englishman's words inspire Santiago to continue his search for the treasure and join the caravan. After a few months, they arrives at an oasis in the middle of the desert. There, he meets a girl named Fatima, with whom he eventually falls in love. The boy believes that he has found his treasure, as he is in love, and wants to stay with his lover and the people he has just met for the rest of his life. Meanwhile, a war is raging around the oasis. A masked stranger on his horse, reveals himself to be the Alchemist, and begins asking the boy questions on alchemy.
After a day of warfare, the boy sees the Alchemist at sunset, who tells him to pack up and travel with him away from the oasis to the pyramids. After Santiago and the alchemist leave the enemy camp, they stop at an old church near the Pyramids to use the kitchen.After receiving the gold, the boy and the alchemist go their separate ways and Santiago makes it to the Pyramids within three hours. As he listens to his heart, it eventually cries with joy because he has finally made it. The boy begins digging, but is attacked by some muggers. They beat him almost to death. He saves himself by telling them that he has a recurring dream about a treasure buried at this location.
I hope you enjoy this book.